Japanese curry with rice, AKA "Kare Raisu" (カレライス) is a strange dish. It's served with rice, is seasoned with a spice blend that features turmeric and coriander, and usually has some amount of ginger and garlic cooked into it. These are fundamental characteristics of many Indian curries (which is the land of curry). However, it also gets thickened with a flour-based roux and is based on meat, potatoes, carrots, and onions, which sounds an awful lot like an English stew or a French Bourguignon. It is a Japanese dish that claims to be Indian but is secretly kind of European. And I'm an alien that pretends to be a Korean that was born in America. And I sometimes claim to be Venezuelan. Thus I like curry because it is existentially confused and so am I.
Today I made a chicken curry.
The Solids
-a small Carrot
-Yukon Yellow Potato
-the White part of a Leek
-Chicken Breast
-2 minced Garlic Cloves (No Ginger(!))
The Liquids
–a tablespoon of Kikkoman soy sauce
-a tablespoon Lee Kum Kee Oyster sauce
-splash of Shaoxing cooking wine
-a teaspoon of Heinz Ketchup
-cup of water
The Roux
-At the beginning, three tablespoons of flour
-A couple tablespoons of canola Oil
-Tablespoon of Random Japanese Lady's Homemade Spice Mix
Cooked in a nonstick wok on a burner stove at 4:30PM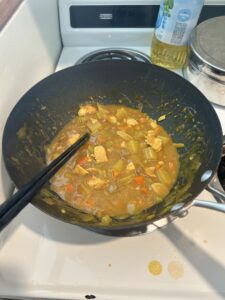 Texture wise it was more or less right. I felt that it was a bit grainy because I didn't liquify the roux properly. However, the thickness was right- the thickness of melted ice cream.
The chunks of potato were cut in a slightly large way, "rustic" was my intention. I liked that I could eat each piece of potato and really taste it. The leeks and carrot were small enough I didn't notice their texture at all.
Taste was slightly bland. There was enough umami because the oyster sauce was working double time. However, it also gave the dish a very.. "chinese" umami that fought with the spice for control of the curry's nationality.
The spices I didn't toast or fry before adding. I wanted a very simple taste. The problem was that the spices had a slightly unpleasant "raw" taste to them, due to not being prepared.
Sweetness was not that noticeable, there was enough, there could have been more without the curry becoming a "sweet curry".
Overall a very mid curry. It didn't take me on a honeymoon to flavor town, the recipe is about as basic of a curry one can make without using actual curry blocks. That being said it was a good first attempt.
4.5/10